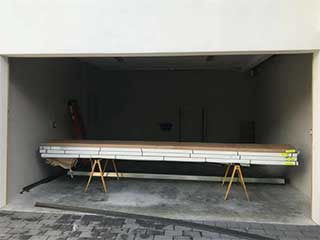 Nothing lasts forever. Just like every other part of your home, your garage door has a limited life expectancy. Some doors will obviously last longer than others, and if you've taken good care of your system, it could end up lasting for decades. However, depending on the age and type of your current door, and the climate you live in, you may already need to consider getting a new one.
Exposure To The Elements

The location of your home can and will dictate how often some of its sections will need to be repaired or replaced. For example, if you live close to the sea, your garage door could be exposed to moisture which represents a slow death for most metallic components. If you live in a region with drastic annual temperature changes, they too are going to affect the longevity of your door. When the rust spreads to a sizeable part of your door panels, the solution is going to be out with the old, in with the new. Of course, the panels aren't the only metal part of your system, so don't forget to check all the other components for this type of damage. If you start finding rust everywhere, consider simply getting a new system, preferably one made from galvanized materials.

A Battle Scarred Door Is Nothing to Boast About

Sometimes, no matter how much you take care of your door, small bumps, scratches and even tiny holes (if it's made of wood) are going to start accumulating. While some minor damages can be fixed, once the panels start looking too warped or battered it will definitely affect the appearance of the door and make it look old and shabby. If you can get away with replacing just one panel then you're in luck. Otherwise, you may need to get a completely new door. This can sometimes be a blessing in disguise, as new models tend to offer enhanced aspects that old systems lack.

Putting Your House On The Market

If you're planning on selling your house, one thing to remember is that its exterior is the first thing that potential buyers judge. Some may even rule it out on the spot if they don't find it appealing. An old, run down garage door will leave the impression that the rest of the house is probably in just as bad a shape. Whether that's true or not doesn't matter, as this impression is all some people need to decide. Not only will this drive the price of your house down, it could also result in your home taking a lot longer to sell. When you spruce up your home to make it look more appealing to potential buyers, don't overlook your garage door. Yes, it will cost you money to replace it, but you'll be able to recuperate this cost in the asking price of your house.