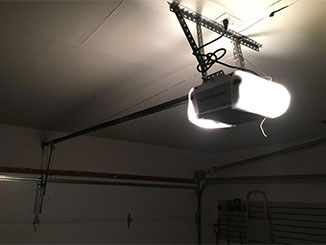 There is no need to lift and lower your door manually when you have a garage door opener installed. These modern devices are powerful and dependable and can work even with the heaviest panels and thoroughly insulated doors. They're not without potential issues, though, but that's where our team comes in.
How Openers Work
The motor unit is connected to a drive system that is connected to the door via a trolley. This provides for the complete automation of the system, as the motor produces the necessary horsepower and the rest of the system pulls or pushes the door according to your commands. You can use a remote control or a wall-mounted keypad, and more advanced models also have the option of connecting to a smartphone device using WiFi. In order to keep the opener from closing the door while something is blocking its path, safety sensors are set up beside the lower parts of the tracks. They send an invisible beam between them and force the door to reverse when something interrupts that beam.
Common Potential Problems
Our garage door repair experts specialize in fixing openers of every make and model. We can fix an old Chamberlain unit just as effectively as we can repair the latest LiftMaster model. Whether its a case of a broken motor gear, a damaged trolley or some type of issue with the circuit board, you can always count on us to quickly troubleshoot and solve the problem. It all begins with identifying the actual cause of the problem. Then, after the diagnosis has been done, we are able to come up with the most effective solution for the most complex of issues. Whether you have a screw drive opener or a belt or a chain drive model doesn't matter, as we are experts at dealing with them all. Our technicians have extensive expertise and a great amount of experience to deal with any problem on the spot. Whether there is a Marantec unit with a failed circuit board or an overly noisy Craftsman chain drive model, we can find the perfect fix for it.
More Than Just Repairs
We don't just fix these motorized units. Our vast range of professional services includes garage door opener replacement as well. We'd be more than happy to recommend the right model for your specific needs and the brand that has the most to offer you. We work with industry leaders like ones we've mentioned previously as well as Genie, Amarr and more. Once you've found the right unit for your home, and we've carried out the garage door opener installation to your satisfaction, you can always rely on us as far as professional maintenance is concerned. Contact our team at Garage Door Repair Lakeway today to get the help you need when you need it.
But wait, there's more! We also offer:

Part Replacement & Lubrication

Belt Drive Opener Installation

Garage Door Cable Replacement

New Garage Door Remotes