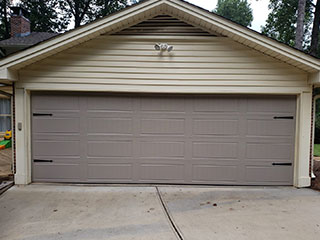 A large number of garage door malfunctions are avoidable. The key to your system's longevity is regular maintenance checks by qualified professionals. Our service appointments will help to keep all sorts of future issues under control and ensure that your system works well for a long time to come!
The Importance Of Springs
Your springs are the hardest working part of your system and are often the focal point when it comes to garage door maintenance. They support the weight of the panels and provide the heavy lifting to enable your door to open and close. These units are subject to a huge amount of daily stress and can therefore develop signs of wear and tear over time. A broken spring can become a potential safety hazard to anyone in the vicinity when it breaks – this is why regular checks are not only necessary, but essential. During a maintenance check, our team will lubricate your springs, check their condition, and ensure they're left working effectively.
Of Motors and Man
Your opener gives your garage door its automatic function. It makes use of safety features to ensure no-one gets injured in the event that an object or person blocks the path of the door when it's closing. Our technicians will carry out safety checks to ensure that your sensors are correctly aligned and working properly. They'll also check there are no hiccups with the auto-reversal feature. Should they discover anything that needs either repairing or re-adjusting, they'll apply on-the-spot solutions.
Complete System Examination
During a maintenance visit, we'll check and examine every part of your garage door for functionality and efficiency. We'll check for bent springs, frayed cables, worn hinges and rollers. What's more, we'll lubricate them to help keep potential problems a thing of the past. Make sure you keep your system up and running for a very long time by contacting our technicians at Garage Door Repair Lakeway today!
Give our team a call if you need help with:

New Opener Remote Controls

Commercial Garage Door Repair

Maintenance Garage Door Torsion Spring

Emergency Broken Spring Replacement