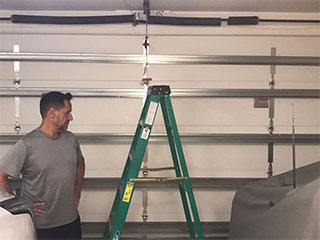 Over time, due to the extensive level of use, garage door systems can be subject to considerable wear and tear. While it can be tempting to go it alone, the DIY approach isn't always the best way forward. To avoid damaging your system further and risking injury, contact our team of skilled technicians for expert garage door repairs.
Noise Keeping You Awake?
You know you have a problem when your garage door is keeping you and your neighbours awake at night. Noisy doors can be caused by worn rollers, overused anti-vibration pads or something as simple as a lack of lubrication. Our team of technicians can identify the culprit, carry out on-the-spot repairs and make lack of sleep a thing of the past.
Take Control Of The Remote
Remote control stopped doing anything? Even minor issues with your remote's radio transmitter can cause a malfunction. External factors can cause receiver interference, while general blockage issues can affect the path between the receiver and the remote. None of these problems are even remotely funny! Our team of professionals can help you regain control of your remote again.
Door Is Always Open
A stuck garage door can be frustrating and stressful. There are a number of things that can cause this. If your extension springs are broken or are in need of replacement, your door isn't going anywhere. The same goes for your set of photo-electric eyes or if your track is out of alignment. When you door gets stuck, it's time to call in the professionals. After all, our door is always open!
Contact The Professionals
Whatever your problem our team of dedicated professionals at Garage Door Repair Lakeway are here to provide the solution. Contact us for advice and local assistance.
We also offer:

Garage Door Safety Inspections

Garage Door Transmitter Repair

Galvanized Torsion Spring Installation

Opener Remote Clicker Replacement